What is workplace design and why you need it?
A well-designed workspace becomes a value and favours the success of companies. Optimizing space is key to maximizing productivity and having a competitive advantage. 
A well-planned office can help you increase your business performance by more than 30%. 
At BriteSpace, we offer a professional office space decoration, qualified and adapted to your business needs. 
Here are a few tips and designs to create a stunning office experience for your business:
1.LIGHTING: Creating ideal environments is easy.
When lighting your office, it is advisable to bear in mind that each space has different lighting needs and that not all areas should be illuminated the same with a single general light. 
We must properly combine lighting with office furniture.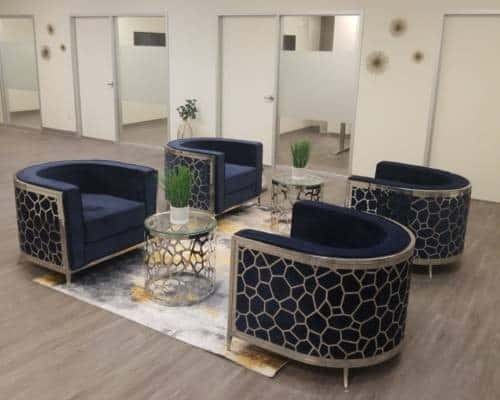 We must use indirect lights. With them, we will provide each space with the necessary lighting for each use. Each space must have its ideal level of lighting. 
There should not be the same lighting in an operational workstation, in the Reception, in the Executive Offices, in the Meeting Room, or the Waiting Room.
For general office lighting, we can opt for fluorescent ceiling lamps. Another possibility is to apply halogens that allow us to achieve a more natural and warm environment due to the type of light they provide and that will enhance the finishes of office furniture.
Indirect lighting for the different areas of the office can be done with a mixture of halogens and fluorescent lamps.
2. Wall Hangings & Decor: Stimulate your senses and you will improve your company.
Colour influences blood pressure, muscles, the nervous system and causes important associations in the human brain.
Therefore it can have stimulating or relaxing effects if we use it properly in office decoration.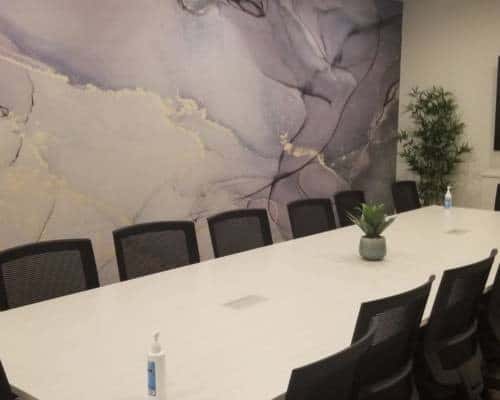 See example of wall design décor in our meeting room
Most Interior Architects agree that colour, perhaps more than any other design element, is crucial in defining the style, spirit, and function of a workspace within a company. 
This important aspect, together with the correct choice of office furniture, will decisively influence the final result.
The fact that color has a physical, emotional, and behavioural impact, advises us to use it consciously in the work environment to support the different activities of our human team.
A proper balance of colors, materials, and textures can provide the kind of sensory stimulation we need to be creative and productive at work. The nuances of colors and the different degrees of transparency and luminosity can help to create this diverse environment.
Related: See Our Office Space Gallery
3.- Chairs: Protect Your Health And Boost Your Business 
Within the office furniture, the chair has a special importance due to its influence on our health. 
If we can maintain a good posture, we will improve our quality of work, we will increase performance and we will be able to avoid medium-long-term injuries that can become important.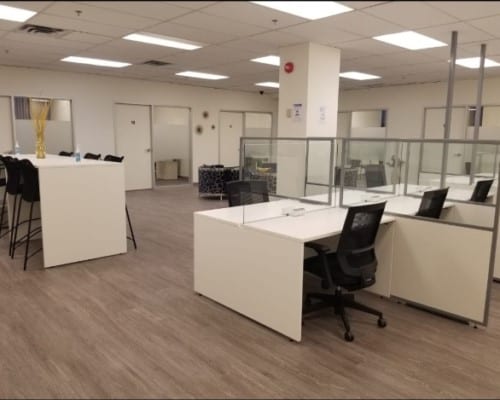 We advise you to always purchase a certified office chair and ask for the advice of professionals to explain how to use your office chair correctly and thus obtain all the benefits of its different regulations and mechanisms.
Your chair is an essential piece of office furniture that you have in your company. By knowing it and using it properly, you can work in greater comfort and convenience.
At BriteSpace Offices, all our rooms and office space includes ergonomic furniture; especially chairs. If have special needs or want something exclusive to meet your requirements, reach out, and we will do what we can to help.
4.Distribution: An Adequate Professional Space Is Key.
Visual and structural barriers are over. It is committed to quality, open spaces, ergonomics, optimization, and interpersonal communication permanently.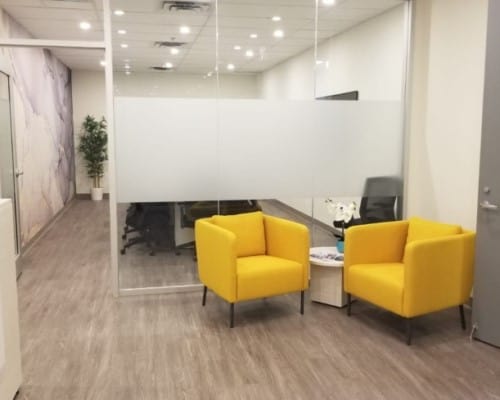 Office decoration has evolved a lot in recent years and therefore the closed space model has become outdated. 
The new office furniture allows the perfect adaptation of all electronic devices and also allows us to carry out our work in better conditions.
The latest trends are committed to the elimination of closed and isolated spaces. The concept of linking these types of spaces with the hierarchy of the company has been abolished. 
The commitment to visual and personal contact, promoting meetings almost anywhere using office furniture, and the search for improving communication between people are priorities for the modern company.
Ideas flow better in open spaces, well lit, and collaboration with colleagues than in closed spaces.
5. ORGANIZATION: Order helps us work.
The cabinets, shelves, and other office furniture for filing and storing your business documents can be from simple models to designs that combine different types of modules, shelves, and doors. 
Combining open and other areas with doors can help to better organize your business files and improve the image of the workspace.
In the latter case, it will be necessary to take into account what is stored within the areas with doors of the furniture and in the open areas. 
Books, folders, and filing cabinets should preferably be placed on open shelves to give a greater sense of order and cleanliness. 
It is important not to forget that needs tend to grow and therefore it is essential that this type of office furniture admit future extensions with supplementary additional modules to store older documents. 
Don't forget to have a closet with a lock. The Data Protection Law obliges us to do so (and yes all our desk furniture comes with lock and key for all your security needs 😊).
These are just some of the most important factors to consider when remodelling an office space. 
Each decision will influence the productivity of the company, for this reason, it is essential to plan each movement so that the result is truly successful.
Closing Thoughts…
Our office at BriteSpace Offices is an ideal workplace, with representative, organized, functional spaces in which lighting, air conditioning, and ergonomics are taken care of. 
We take workplace environment and productivity very seriously.  If you need any custom setting, whether it is lighting, furniture or office space, you can always give us a call at 416 722 7619 or email us directly at info@britespaceoffices.com