In today's article, we get into the details on how you can decide what are the best options for an office lease in Mississauga.
So you've decided to take the next step in your business and rent office space in Mississauga.  
Congratulations!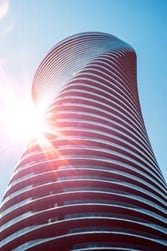 This is an exciting step for your business to grow and find a place to call home.
According to Canurb, Mississauga has added an average of 1 million square feet of office space each year, so it's safe to say that you have plenty of options to choose from.
Once you find a space you like, you'll be asked to sign an office lease.
What is an Office Lease?
An office lease is a legally binding contract between the landlord and tenant.
It allows the tenant the right to use the office space for a certain period in exchange for money that is paid to the landlord.
The lease will tell the landlord and tenant what their responsibilities and rights are during the leasing period. A lease is meant to protect both parties and ensure they're receiving what they signed up for. 
Ask Questions Before Signing
Before you sign your office lease in Mississauga, you need to make sure you know what you're getting with your lease.
You should evaluate every aspect of the office space including the location, terms of the lease, building quality, and even the landlord before committing. Here are some things you should know before leasing an office in Mississauga.
Some of the conditions and clauses you should be aware of include:
How long is the lease?
Many times, you'll be asked to either sign a monthly, yearly or multi-year contract. Ask what your options are, and how those options affect your monthly rent. Sometimes signing a longer lease can save you money.
Always ask about the safety of the surrounding areas.
Thankfully, Mississauga is a very safe area for your business to lease an office.
Even so, it's important to know what kind of security the office building will provide. This could be anything from security cameras to key card access.
The goal is to make sure that you and your employees feel safe in your office space.
Will the office fit your needs?
Do your research to understand what you are and are not allowed to change in the office.
Can you rearrange the office to fit your business needs? Does your office space include the technological standards you require to run your business?  
What is included in the lease?
You should know exactly what you're paying for in your monthly rent and what you'll have to pay out of pocket.
Knowing the finalized cost will help you make sure you stay within your office space budget.
How much will the rent increase each year?
Often, you'll find a clause in your office lease that will talk about a rent increase.
This is likely listed as a percentage. Make sure you understand what that looks like and how much you'll have to pay each year.
If your employees and clients can't find parking, your office space is not a good option.
Ask how much parking is available to you and your clients and how busy the office lot is during the day. It's important to know that you have enough parking to meet your company's needs.
Do you understand the lease?
There's a lot of technical language listed in a lease contract. Make sure you understand every section of it before signing.
It's a good idea to have your lawyer check your contract to make sure that it is fair and right.
What happens if you need to leave?
In the rare circumstance that you need to leave your office space, are you allowed to terminate your lease?
Make sure you understand the full impact of ending your lease early. You will usually incur some type of monetary penalty for doing so.
Over To You…
Completely understanding your office lease in Mississauga is important so that you and your landlord are both on the same page.
When everything is transparent, you'll be confident knowing you picked the perfect office space for your business.
At BriteSpace Offices, we provide solutions that cater to different needs in upfront and transparent way to ensure you get the most out of your office lease and space requirements. Get in touch and we will walk you through our offices and your options at no c